I sort of bought DBLs by accident. I had seen a pair sell on ebay for under £3k, in black, recent full driver replacement and described as mint. Unfortunately they were in south east, no boxes and thus required a van, a ferry crossing and a thousand mile drive to collect so I held fire. But the thought was there that liquidating my SL2s would have gone a long way towards funding those.
A few weeks later I popped into my local dealer, purely a social call as I was in the area at the time (arguably the best cobbler in NI is a few doors down). Mentioned the ebay DBLs and how I might have sprung had they been closer to home. He responded that he might know of a pair and he'd look into it. Several weeks later, after a holiday, I got a call that indeed there was a pair available locally. I expressed interest and inquired about auditioning/viewing them. After several calls it was clear that the seller had already purchased new speakers and the DBLs were boxed. I agreed a price, contingent on validating their condition.
There followed a period of frantic diy where I went above and beyond a request to paint the kitchen ceiling and instead build a whole new fitted kitchen, had a Rangemaster cooker and hood installed, and then announced that I might be getting some new speakers. I did use the word "bigger" though it is just possible I was breathing in at the time and it didn't come across very distinctly.
One day a van arrived. Two men unloaded four large boxes and two enormous boxes into my home office/mancave. Fortunately looks can'y kill.
Waited for the dust to settle and unpacked. The condition of the speakers was far mint. Cosmetically I'd have described them as 7/10. Not such an issue as they are out of the way in my office but obviously has an effect on price. The bass driver surrounds were shot, one having a section of 3" missing. The pads on the bass boxes were perforated. The underside of the treble boxes were deeply gouged, 5+mm in depth. The spikes supporting the treble boxes were bent. The Velcro on the one bass box that had been bagged was reasonable, the other three had been packed without being bagged and thus the Velcro had been peeled back at the corners. Annoyingly the three bags were present in the bottom of one of the boxes. In packing the crossover had been resting on one of the gaskets and had produced a notch on both sides of it (over a few weeks these sprang back out). A section of the lower band on the tweeter support frame had been hacksawed out. Have been unable to determine why someone would do that, my theory being that it makes it possible to reach in and unplug the feed to the bass cabinet whilst it's in situ.
On the plus side midrange and tweeters had been replaced approx. five years ago, though looks like they were done by someone wearing boxing gloves. Grilles were new USA sourced ones and looked the part.
I slept on it, did some calculations and made an offer based on what I reckoned it would cost me to restore them and what they would be worth in that restored state. After a few weeks of contemplation the seller agreed to my offer and the work began. I'll focus here on the tweeter box restoration and update on the bass boxes as that's still ongoing.
First off was the filling. As I said they were quite deeply gouged and I had to remove a lot of loose material to get back to a firm foundation. I initially used a box cutter to cut in and then finished off with a pointed grinding tool in a "dremel" (lidl equivalent) to smooth off the surface.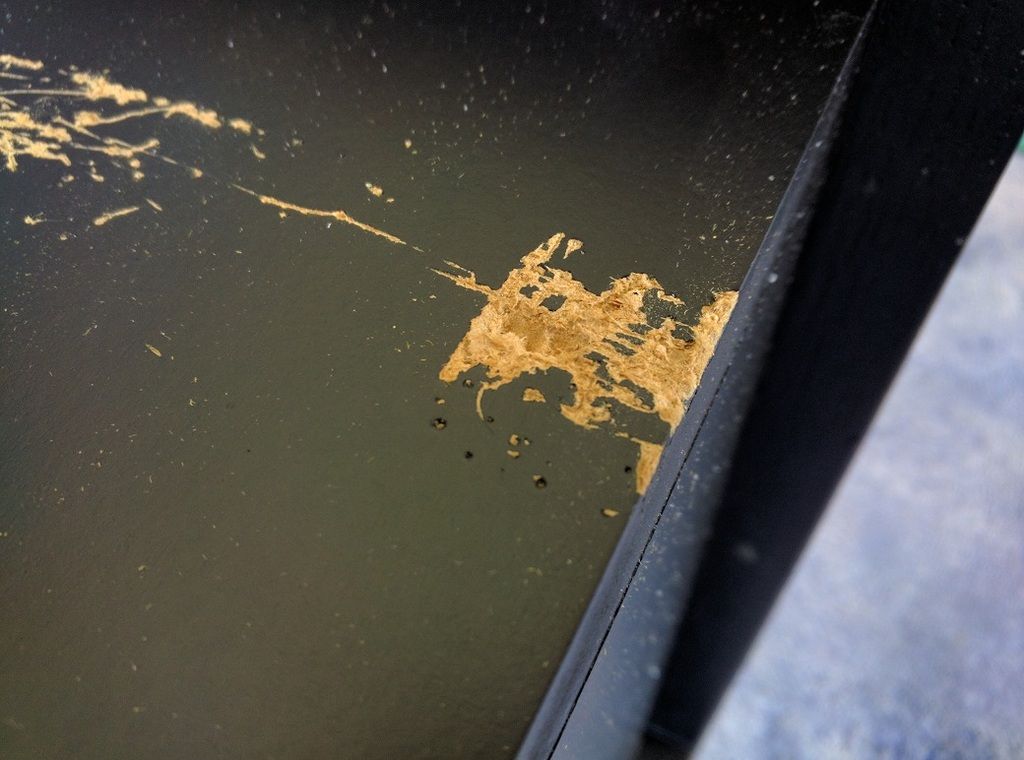 Filled the surface and sanded back to flat with a sanding block and 120 grit.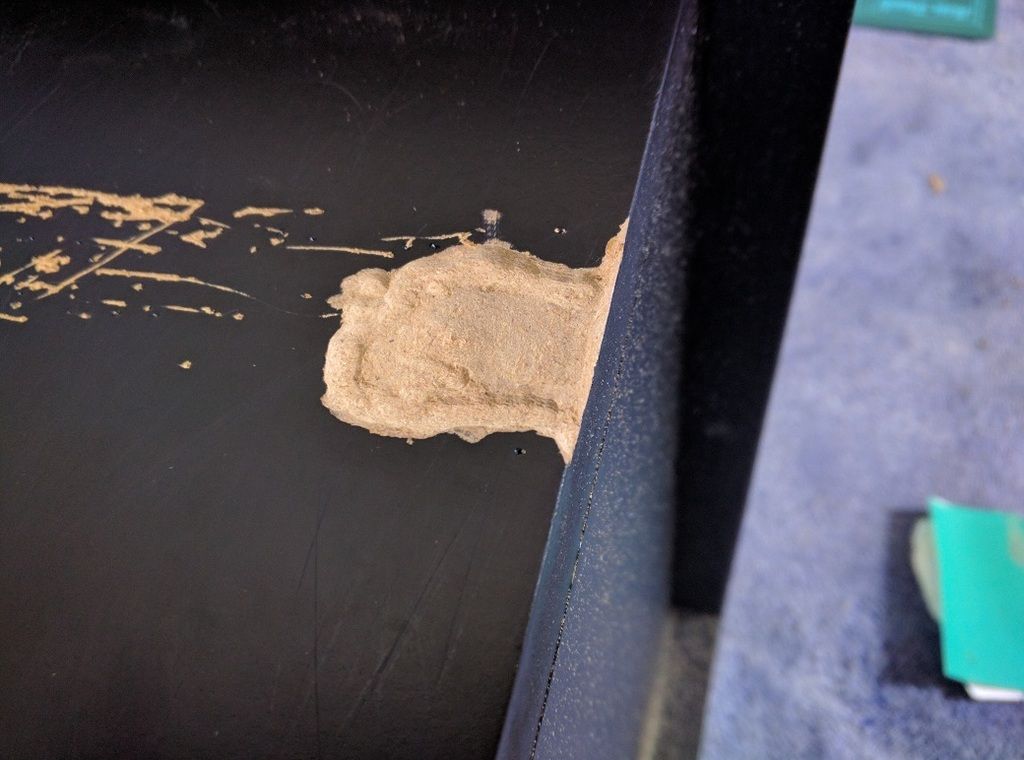 And filled.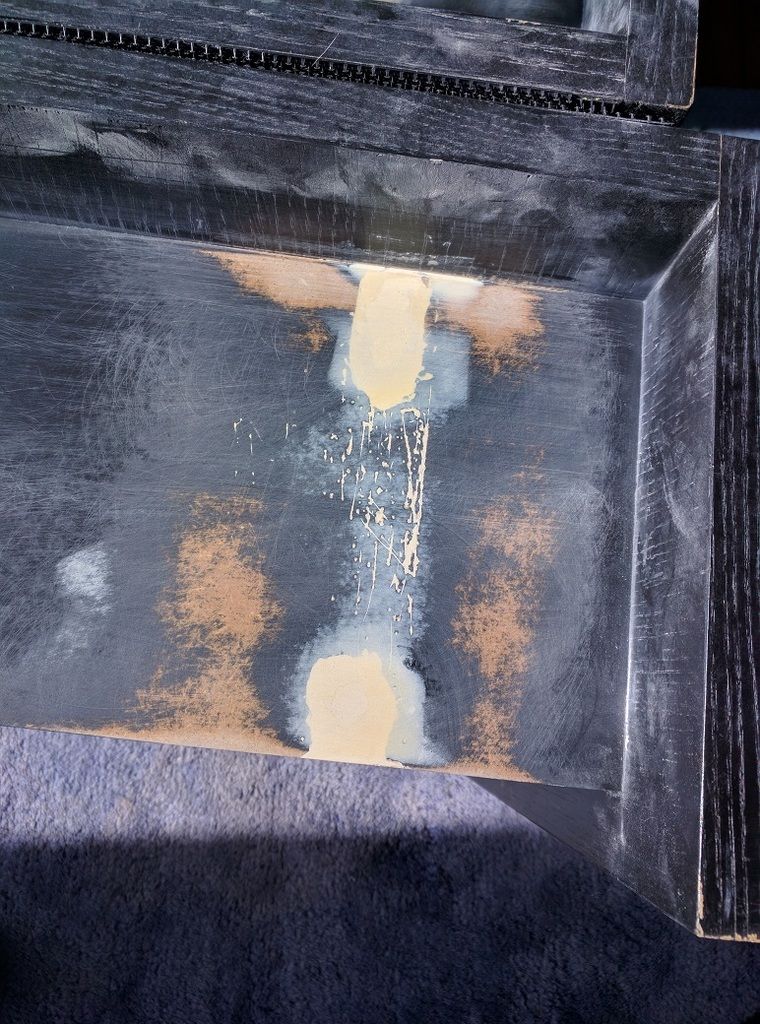 Next up the spikes. As you can see from the photo they were bent. At least 6 of the 8 were visibly bent.
Approached Naim about replacements but they're no longer stocked so I had some new ones made from M4 Stainless Steel. Got a dozen so as to have a few spares.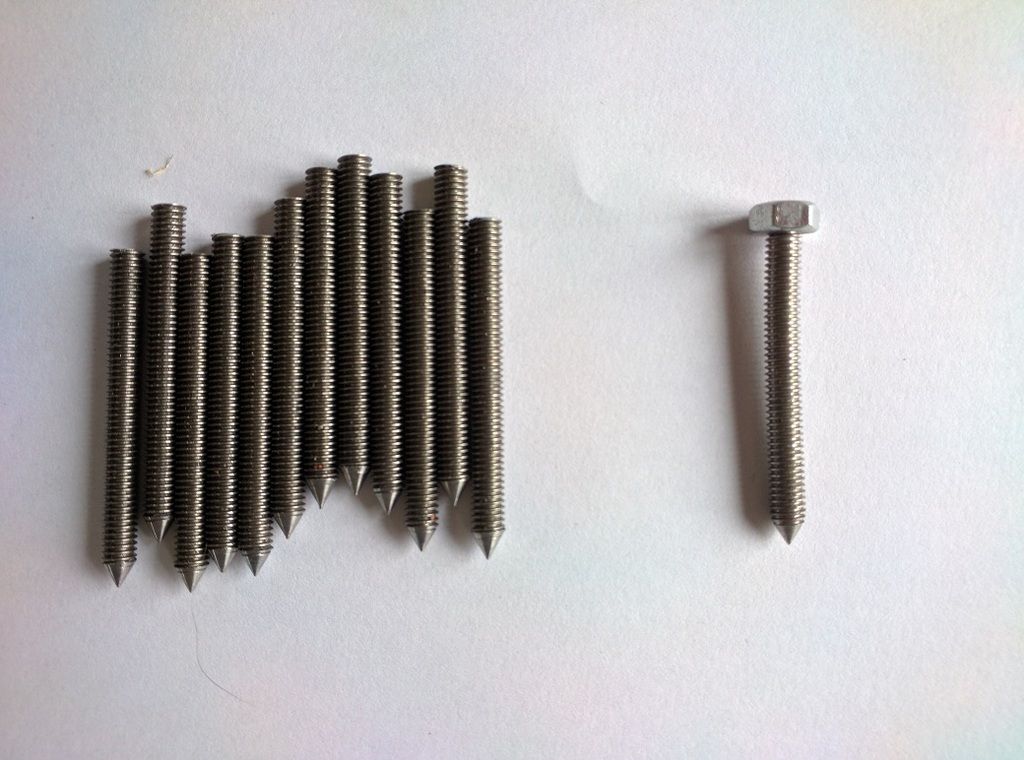 Glued nuts onto the spikes using a suitable adhesive.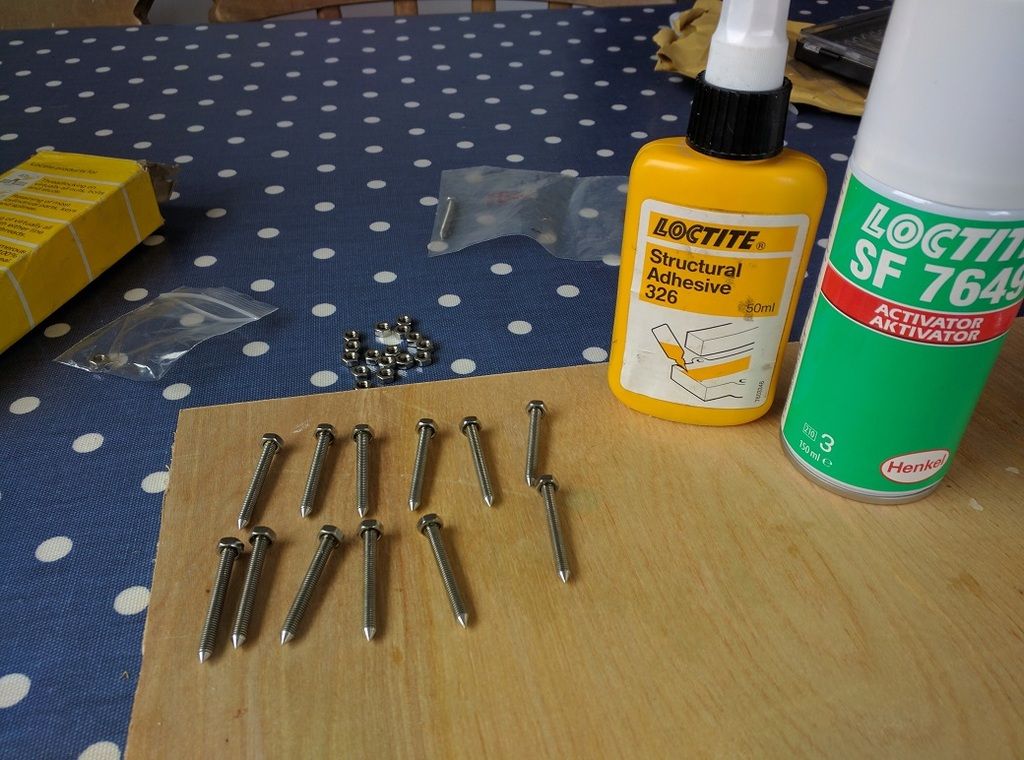 Needed to get the correct height for the spikes so measured the height of the tweeter box and then set the starting position for the spikes to that distance down from the top of the cabinet. Needed a few tweaks to get them aligned and level but was relatively straightforward. Can clearly see the trapezium cutout in the tweeter support frame.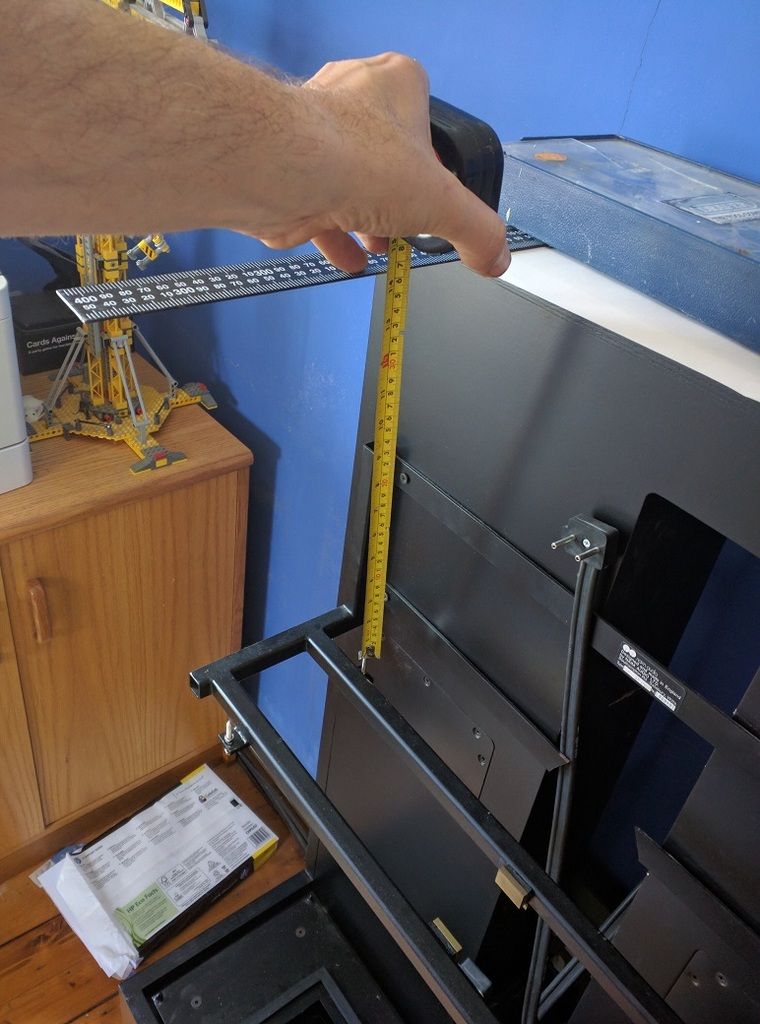 Not planning any major cosmetic work at his stage, just want to get them running but I did have a roll of double sided tape kicking around the office so I carefully cleaned under the loose corners of the Velcro and stuck them down. Actually made a significant improvement to the appearance.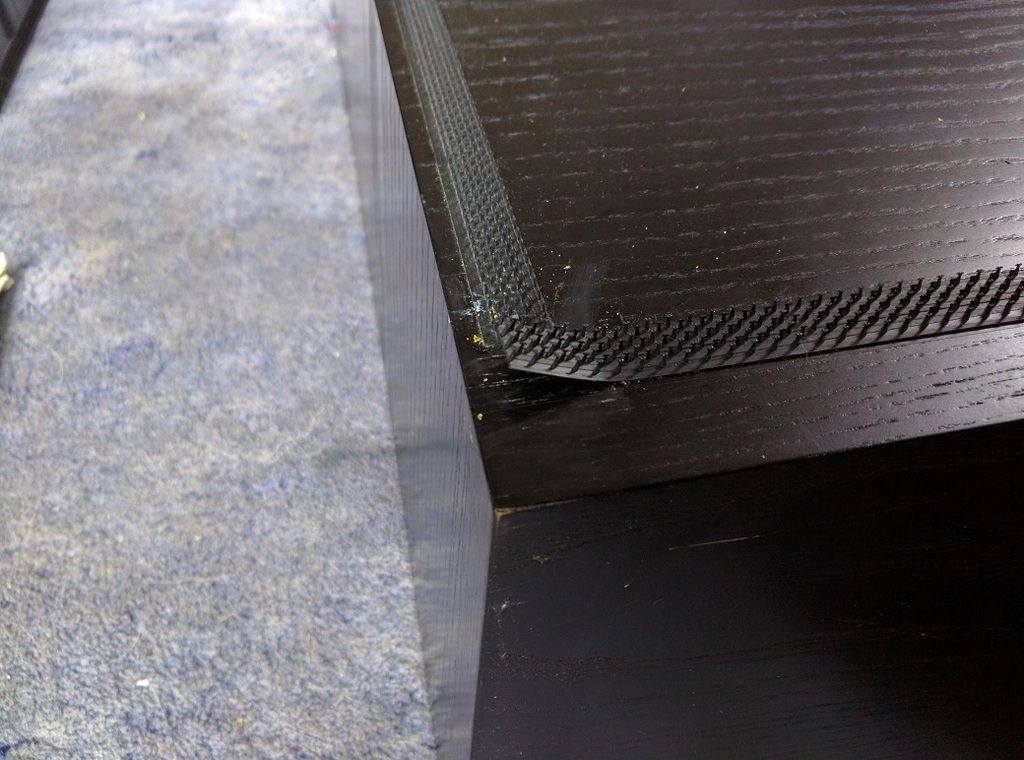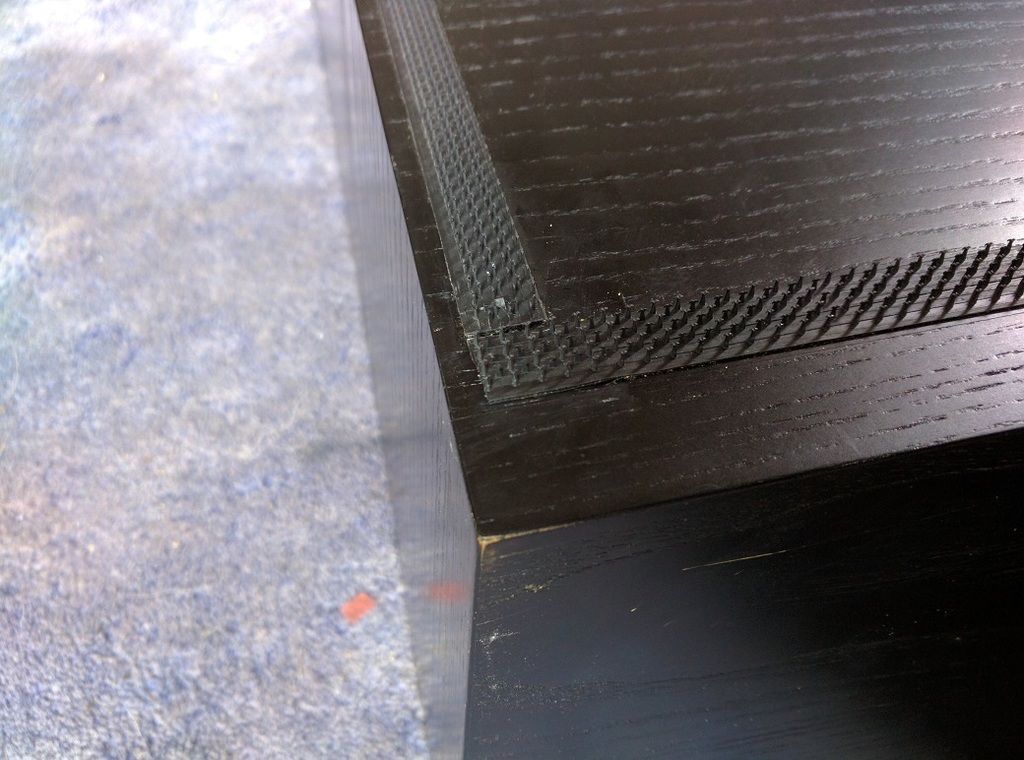 Will follow up on the bass boxes later, currently waiting on new aluminium pads to complete that. Meanwhile current state...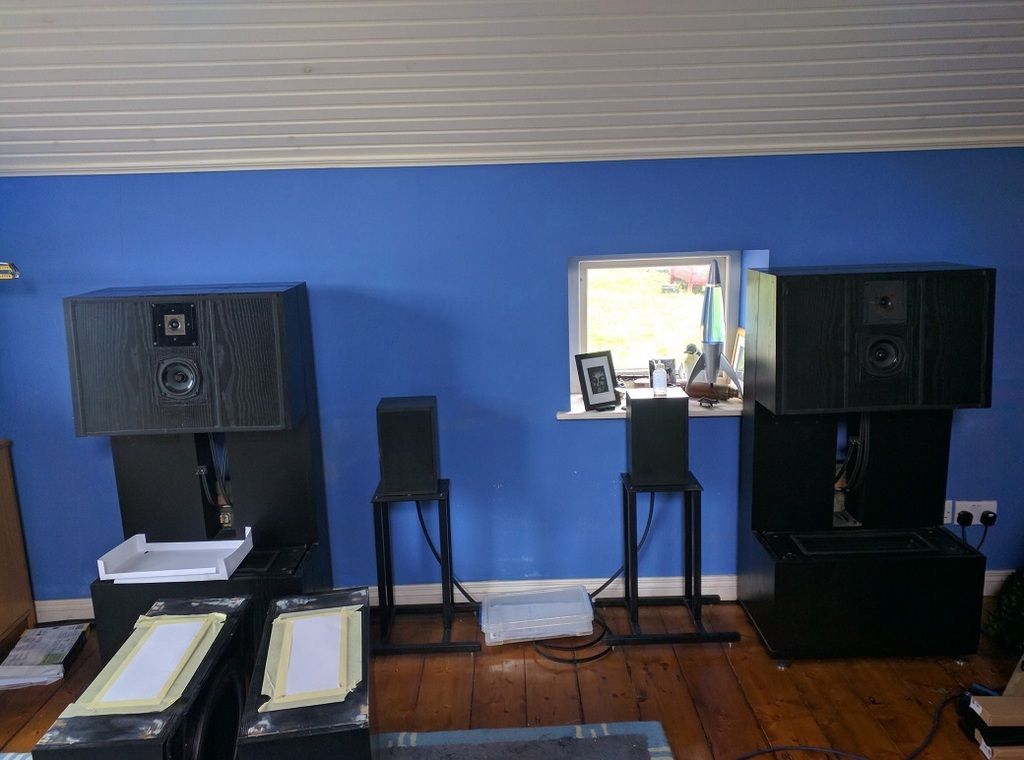 Regards,
Willy.