Recorders.
No, not those wooden flute-like things that are used as instruments of torture on teachers and parents. This is a thread about recorders used in a hifi context; analogue tape, whether cassette, reel or cartridge; or digital, whether on tape, disc or digital file.
The inspiration for this thread was my recent trip down to Worthing to drop off my Nakamichi ZX-9 for a much needed service. I was somewhat taken aback to learn that the turn around time is currently 15+ weeks. It seems that audio tape in all forms is undergoing something of a rennaisance and Bowers & Wilkins Nakamichi service department has seen a big upswing in demand for their services. So it would seem that analogue tape recorders are making a bit of a comeback. Or are they..?
With the Nak gone I've been dusting off some of my old cassette decks, renewing belts, pinch rollers etc.. and digging out old cassettes for some taping fun. From the excellent Denon DR-M44HX and Aiwa AD-F770 still two of the best sounding decks outside of the Nakamichi stable, to some wonderful oldies like the monster Nakamichi 700, to one of the earliest cassette players, the Philips EL3302. And I haven't even mentioned the R2Rs yet..
However, I find that while tape recording is fun, it's more of a diversion. Fact is I do very little serious recording on the many tape machines I have. Mostly they are used for playback - the reel to reel decks in particular. Most of my recording these days is done from analogue to digital and so I have contributed a fair bit to a few threads in recent months asking about transcribing cherished vinyl and the like to digital. Keen to take computers out of the music room, this has coincided with my own testing of a number of stand alone digital recorders.
In the last month I have been testing a Marantz PMD661 MkII recorder and in many respects it is the best yet for the intended role of digital recorder within the main system. You'll recall I didn't really get on with the Korg MR-2, even with 24/192 and DSD, much preferring the sound quality from the Sony PCM-M10 and PCM-D50. The M10 offers SQ that at 24bit 96kHz via the line inputs is within an ace of the D50 but in a smaller package, with amazing battery life, and for anyone needing a pocketable stealth recorder for recording in the field at very high quality, it's probably in a league of one. However, the Marantz, while much bigger than the Sony, has proved itself to not only perform superbly at 24/96 but also it's much nicer to use in the system. The first advantage it has is the display - it's a lovely OLED display that is easily read in any light. The SONYs are LCD and need backlighting to read properly, which is a real pain, particularly on the M10. There's also a supplemental LED record level display at the bottom of the Marantz recorder, just like tape decks of old. What's more, the Marantz has adjustable L+R record level, a proper quarter inch headphone jack, a proper RCA phono line out (although line in is only a 3.5mm jack if you need a single ended input), and a coaxial digital input. With the latter it would have been nice to have an output too, as on the bigger PMD671, or perhaps a switch to allow either. The Marantz has an air of a proper professional bit of kit - it even says so on the case! The Sonys are, well, Sonys... They embody what Sony seems to do best; lovely little jewels of miniature electronics, nicely built and superbly finished. But sat next to the Marantz they look a bit like toys.
It's early days and I need to process the 24/96 recordings and then play them back through the big DAC, but the Marantz may well be a keeper here. It has definitely tempered my hankering for the Sony PCM-D100. Do I really need 24/192 or DSD..??
Here are some pics;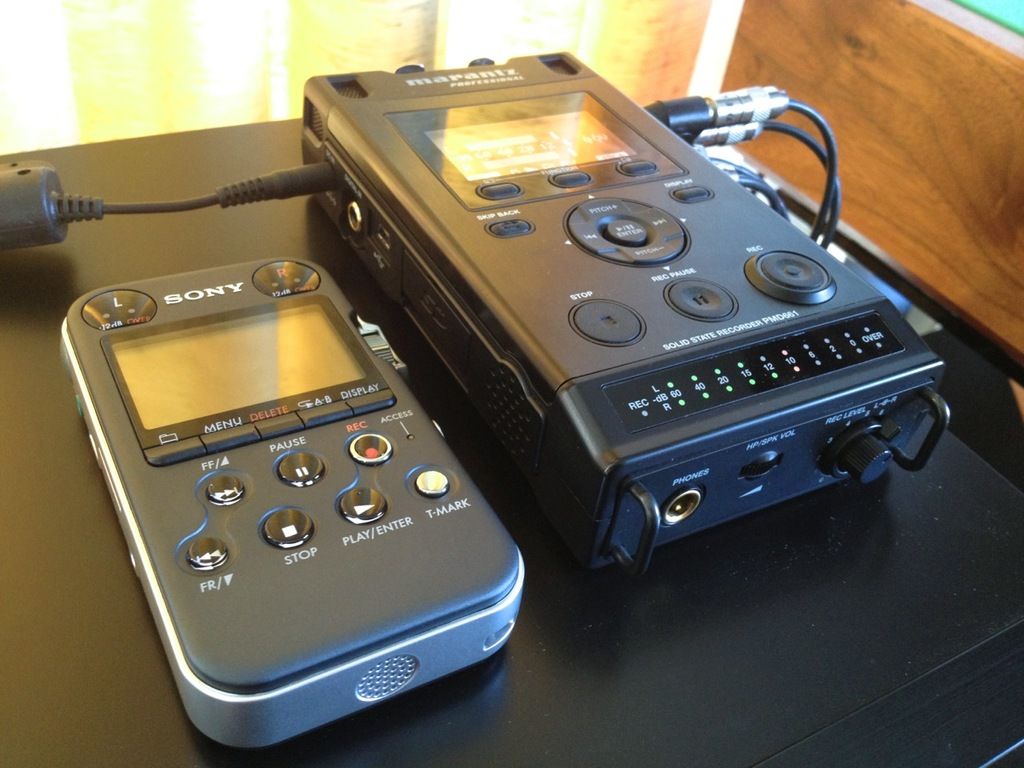 Interestingly, the PMD661 isn't that much smaller than the first compact cassette recorder...